Ann O'Neill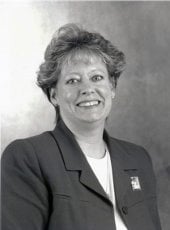 BS Metallurgical and Materials Engineering 1981
Ann graduated from Michigan Tech in 1981 with a Bachelor of Science degree in metallurgical and materials engineering. She then began her career at TRW as a quality engineering assistant. She remained at TRW until 1989 holding a variety of positions with increasing responsibilities. During this period she also earned two additional degrees: a AAS in metrology and calibration from Macomb County Community College in 1983, and a law degree in 1987 from the Detroit College of Law. Ann moved to Tenneco, Inc. in 1989 as the director of quality. She remained with the company until 1994 when she accepted a position with United Technologies where she later became vice president-quality. In 1999, she moved on to the Ford Motor Company as director of vehicle service and programs in the customer service division.
As a student, Ann was a member of Blue Key, Tau Beta Pi and the Society of Women Engineers.
As an alumna, she is a Presidents Society member, and served on the Michigan Tech Fund Board of Trustees. She will be the featured keynote speaker at the annual Girls+Math+Science=Choices workshop held on Michigan Tech's campus.
She currently belongs to several professional groups including the Michigan and Oakland County Bar Associations, the Society of Automotive Engineers, and the American Society of Quality Control. Ann has received two awards from the American Society of Quality Control—the Cecil Craig Award in 1987 and the William P. Koth Award in 1993.
Ann and her husband, Mike, reside in Farmington Hills, MI with their two children.
From the 2000 Presidential Council of Alumnae Induction.