Nancy Grimm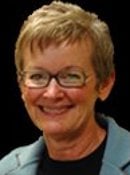 PhD Rhetoric and Technical Communication 1995
Nancy Grimm earned a PhD in Rhetoric and Technical Communication from Michigan Tech in 1995. She completed her bachelor's in English with a Secondary Teaching Certificate from Marquette University in 1967 and a master's in English from Northern Michigan University in 1981.
Nancy's career in education began as a high school teacher in Wauwatosa, Wisconsin. Other teaching assignments followed at a junior high in Rochester, New York, at Spartan School of Aeronautics in Tulsa, Oklahoma, at the University of Tulsa, and then Suomi College (now Finlandia University) in Hancock, Michigan.
In 1978 she joined Michigan Tech and became a tutor in the Language Skills Laboratory. From 1979 to 1995 she was an instructor; in 1995 she was named an Assistant Professor in the Department of Humanities; and in 2000 promoted to Associate Professor. Currently, Nancy holds the positions of Director of the Michigan Tech Writing Center, an Associate Professor in the Humanities Department, and an Adjunct Assistant Professor in the Department of Education.
She has served as the Director of the Michigan Tech Writing Center for 18 years. During her tenure, the Center has achieved national recognition. In 2007, the Writing Center received the National Writing Program of Excellence Award – the only writing center to receive the award that year and only the second writing center to receive it in the award's history. Nancy's efforts in addressing the challenges of communicating in our complex and culturally diverse world influenced Kimberly-Clark Corporation's decision to provide a grant for a much-needed renovation in the Writing Center. She is also responsible for leading the development of the campus learning center programs at Michigan Tech.
Nancy is an award winning author and well-renowned in her field. In 1999, she won an award from the National Writing Centers Association for her book, Good Intentions. In 1996, she also won an award from the same group for her outstanding scholarship on writing centers. She has published numerous articles in professional journals, reviewed several professional publications, and has been an invited speaker at numerous national and regional conferences and workshops, as well as delivering keynote addresses in 2006 at two national conferences, one at the National Conference on Writing Centers as Public Spaces and one at the National Conference on Peer Tutoring in Writing.
Nancy was inducted into Michigan Tech's Presidential Council of Alumnae in 2008. She and her husband, Thomas, live in Calumet, Michigan. Their daughter, Kristin, is also a graduate of Michigan Tech ('90) and their son, Benjamin, is a graduate of the University of Michigan.
From the PCA Induction Ceremony Program, Spring 2008