Tonya Moore-Bouchard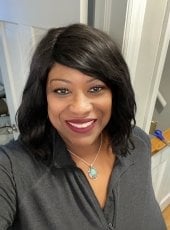 BS Electrical Engineering 1996
Tonya Moore-Bouchard graduated from Michigan Tech in 1996 with her Bachelor's Degree in Electrical Engineering. After hearing from her high school counselor that it was the best engineering school in Michigan, Tonya knew that Michigan Tech was the school for her. Currently, Tonya is a senior supplier quality engineer and global lead for switches and cameras at General Motors.
Combining two of her passions—teaching and electronics—Tonya taught in the Girls + Math + Science = Choices program while at Michigan Tech. Additionally, she was an electrical engineering teaching assistant during Summer Youth Programs. She was also a founding member of the Society of Intellectual Sisters in 1991. Tonya was a role model speaker for Women in Engineering and Minorities in Engineering for four years (1996, 1997, 1999, and 2001). She encourages current students to believe in themselves. "You can do anything that you set your mind to," she said.
In her career, Tonya has achieved Certified Quality Auditor and Certified Supplier Quality Professional from the American Society for Quality. Additionally, she received a Red X Journeyman Problem Solving certification. While working full-time at General Motors, Tonya has also worked as an adjunct professor for the University of Phoenix for almost five years. She has her Master's in Organizational Management and Master's in Human Resource Management from the University of Phoenix.
Tonya is an active member of the Michigan Tech Alumni Board of Directors. She volunteers her time because she wants to help and give support back to fellow Michigan Tech students and alumni.
Updated September 2022