Jan Miner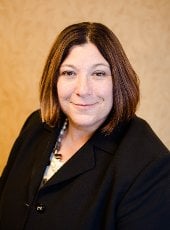 BS Scientific and Technical Communication 1998
Jan earned her BS in Scientific and Technical Communication from Michigan Tech in 1998, graduating cum laude. She went on to earn her Juris Doctor from the Thomas M. Cooley Law School in Lansing, and was admitted to the State Bar of Michigan in 1995. Jan is also licensed to practice in the Federal Court, Eastern District and before the United States Supreme Court. Since 2008, she has served as a Bay County Public Defender working in juvenile justice, child welfare and family law.
Career achievements include being selected as the juvenile defense attorney to serve at the Juvenile Justice Team-Based Seminar Training, entitled A Comprehensive Approach to Managing Youth Who Have Offended Sexually (2013). She was also selected to be a member of the team who won the Robert Weiss Award for Excellence in Creative Solutions for the Adoption Permanency Forums which was sponsored by the Department of Human Services Bay County Team. Further, Jan was a founding member and participant on the Juvenile Drug Court committee which creates policies and protocols for the Bay County treatment court which ensures the sobriety of youth (2010). In addition, she holds a Family Law Certificate (since 2008) and is a founding member and participant on the Bay County Family Treatment Court (FTC) team.
Jan's professional memberships include State Bar of Michigan Elected, 18th Judicial Circuit Representative Assembly Member in 2010 and 2013 (term ending this year), Member of the Bay County Bar Association (former) Board of Directors, the Criminal Defense Attorneys of Michigan, the Family Defense Attorneys of Michigan, the State Bar of Michigan Family Law Section, and the State Bar of Michigan Children's Law Section.
Jan's community service includes 20+ years with the Disability Services Resource Center, the Pinconning High School Mock Trial Team attorney and coach, Sadie Toeppner Garden Study Club, the MSU Extension Master Gardener, and Wildlife Support Team member.
While at Tech, Jan achieved multiple honors, including Outstanding Young Women of America which was featured in Michigan Women Magazine as a top 20 Michigan college graduate, a Michigan Governing Board Association Award, three times Michigan Tech Leadership Scholarship recipient and was a Who's Who among Students in American Colleges/Universities. She was also a member of the Alpha Xi Zeta sorority. Jan was President of Undergraduate Student Government in 1987, Vice President in 1986, and was the Freshman Class President. She was also a student liaison to the Michigan Tech Board of Control. She was a member of the Athletic Council, Film Board, and the played the French horn in the Husky Pep Band.
Jan and her husband Robert of 20 years have two daughters, Cate and Jayce, and reside in Essexville, Michigan.
From the 2016 Presidential Council of Alumnae induction.