Michelle Eggert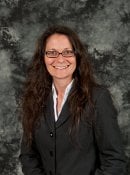 BS Environmental Engineering 1996
MS Environmental Policy 1999
PhD Environmental Engineering 2007
Michelle is a second generation Michigan Tech graduate. Her father, Robert Jarvie, received a bachelor's degree in Electrical Engineering in 1962. Michelle received her bachelor's degree in Environmental Engineering in 1996 and went on to earn her master's in Environmental Policy in 1999. In 2007 she then earned a PhD in Environmental Engineering.
Between her master's and PhD studies, Michelle worked as a consulting engineer on water treatment issues, including filter and coagulant aid polymers. During that time, she also performed construction oversight on the rebuild of the 240-MGD (million-gallon-per-day) Waterworks Park II Water Treatment Plant on the Detroit Waterfront. While in graduate school, she spent one summer working for the National Park Service's regional engineering office in Alaska, where she worked on projects at Denali, Katmi, and Lake Clark parks. Since her studies, she has worked in the mining industry on sustainability, legacy contamination, and environmental compliance and management issues. Her work has included managing the remediation of a mercury contaminated Great Lakes area of concern, writing company-wide environmental policies, managing the corporate environmental audit program, renewable fuel research, developing carbon offset projects, and greenhouse gas management and reporting.
She is a Professional Engineer and Storm Water Operator in the State of Michigan. Her professional memberships include the Water Environment Federation, the American Society of Mining and Reclamation, the Society for Mining, Metallurgy, and Exploration, the American Society of Engineering Education, and the American Water Works Association. Additionally, she has served as a peer reviewer for Environmental Science and Technology, Water Research, and Mine Water and the Environment.
Michelle's community involvement includes having served on the Marquette County Planning Commission, the Marquette County Brownfield Redevelopment Authority, and the Western Upper Peninsula Citizen's Advisory Council to the Department of Natural Resources.
While a student at Tech, Michelle was involved with the campus radio station, WMTU, hosting a jazz and blues radio show for several years. She also volunteered at Dial Help—the community crisis hotline. She was a fellow in the Sustainable Futures Institute, a member of the Full Throttle Motorcycle Club, and wrote for Tech's women's newspaper, Techno Babe Times.
Michelle has publications in sustainability, environmental policy, water treatment, and engineering education. She is also an avid knitter, with published knitting patterns.
Michelle was inducted into the Presidential Council of Alumnae (PCA) in 2011. recently She married another Michigan Tech grad, Brian Eggart ('07 Mechanical Engineering). They live in Oregon where they enjoy hiking and mountain biking.
From the PCA Induction Ceremony Program, Fall 2011