Michelle-Anne Christensen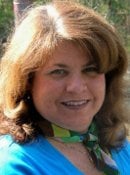 BS Geological Engineering 1984
MS Civil Engineering 1986
Michelle graduated from Michigan Tech in 1984 with a bachelor's degree in Geological Engineering and in 1986 with a master's degree in Civil Engineering. In 1989, she earned a BA International Commerce from the University of Copenhagen. She is currently the Executive Vice President of Sales for enChoice, Inc., a Premier IBM Business Partner specializing in enterprise software and solution sales headquartered in Chandler, Arizona. Michelle is based out of Boston, Massachusetts.
After graduation, Michelle worked for NRC Consulting, a subsidiary of Arctic Consulting Group, based in Copenhagen, Denmark and Sondre Stromfjord, Greenland. As a member of the team that was instrumental in developing and engineering the computer hydraulic simulation programs used for the Greenland Tunnel initiative, Michelle was able to transition her engineering skills to include the use of computers in practical engineering. Michelle's interest in computers resulted in her joining IBM, first in Denmark in 1989, and then in the US in 1997. Michelle possesses a stellar 17 year track record in IBM software sales. During her years at IBM, she garnered numerous accolades, including the 2004 IBM Software Sales Manager of the Year award and the 2000 and 2004 IBM Global Golden Circle - the company's highest sales award. In 2006, Michelle joined enChoice to facilitate IBM's software strategy, which included enabling their business partners. During her tenure, Michelle has enabled the firm to attain double digit growth and she continues to build and mentor a world class sales organization representing the diversity of her customers.
As an IBM Business Partner representative for Women in Technology, Michelle continues to promote and mentor women across the IBM and IBM Business Partner community. This volunteer group is a vital link for the success for younger women continuing in the field of technology and engineering. Michelle is a dynamic volunteer with the local high school, where she was formerly the committee chair person for the Marching Band Uniform committee. In addition to her activities with the Orchestra and Marching Band, Michelle is an active mentor in the Math and Science department at both the junior and high school and is keen on promoting the "softer side" of engineering.
While a student at Michigan Tech, Michelle was president of the Society of Women Engineers chapter for three years, and in 1984, Michelle was awarded the Michigan Tech Fund Merit Award for Leadership and Service. That year, she was also selected as a National Finalist in the SWE Technical Essay competition and subsequently presented her award winning technical essay in Washington, DC at the SWE National Conference. Michelle was also active in the Keweenaw Orchestra, the Pep Band, and the Symphonic Orchestra. In 1985 she represented the Society of Women Engineers as a Winter Carnival Queen candidate and finalist. Michelle also enjoyed Greek life at Michigan Tech as a member of the Roses of Sigma Tau.
Michelle and her husband, Flemming, live in Acton, Massachusetts with their three children, Clement, Andreas and Sebastien.
In 2010, in recognition of her significant achievements, Michelle was inducted into the Presidential Council of Alumnae.
This profile appeared in the 2010 Presidential Council of Alumnae induction program.