Caren Freel Meyers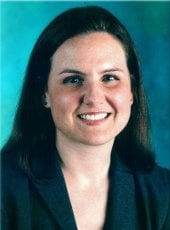 Caren received her bachelor's degree in Chemistry from Michigan Tech in 1994. She continued her education at the University of Rochester, earning a master's degree in 1996 and PhD in 1999 in Organic Chemistry. From 1999 until 2001, Caren held a teaching/research postdoctoral position in Medicinal and Organic Chemistry under the direction of G. Marc Loudon and Richard Borch. From 2002-2005 she was a National Institute of Health Postdoctoral Fellow in Biochemistry/Enzymology at Harvard Medical School under the direction of Christopher Walsh.
In September 2005, Caren accepted the position of Assistant Professor in the Department of Pharmacology and Molecular Sciences at Johns Hopkins University School of Medicine. She is a faculty member in the Biochemistry, Cellular and Molecular Biology Graduate Program, the Chemical Biology Interface Graduate Program, and the Anti-Cancer Drug Development Training Program.
Caren's research involves the study of pathogenic bacteria and the fight against the rapid progression of bacterial resistance to antibiotics. Her approach involves the design and synthesis of novel antibiotics and antibiotic prodrugs. She has authored numerous publications, presentations, and book chapters in her field, won an outstanding teaching award at the University of Rochester, and received the Jenkins/Knevel Award for Excellence in Research at Purdue. She is a member of the American Chemical Society and the American Association for Cancer Research.
While at Tech, Caren was the recipient of the Dow Chemical Company Foundation Undergraduate Research Fellowship and the American Institute of Chemists Award for Excellence in Chemistry. She was a member of the American Chemical Society and the Symphonic Band.
Caren and her husband David Meyers (Michigan Tech '94) make their home in Towson, Maryland with their son Reese.
From the 2006 Presidential Council of Alumnae Induction.