Jill Meister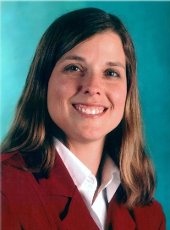 Jill graduated from Michigan Tech in 1988 with a bachelor's degree in Chemical Engineering and began an eighteen year career with Universal Oil Products (UOP) LLC in Des Plaines, Illinois. Her first position with UOP was as Development Engineer, followed by advancing positions of Technical Advisor, Modular Systems Product Engineer, Modular Systems Product Manager, and Alkylation & Oxygenates Technology Manager. Since 2002 she has held the position of Senior Alkylation Specialist in the Development area.
As a senior specialist, Jill is responsible for preparing and delivering technical presentations and papers worldwide, as well as overseeing research and development projects to support these technologies. Jill has one patent for Hydrocarbon Recovery from Corrosive Effluent Stream, two patents pending, and several Memorandums of Invention with potential for future patents. Additionally, she has published in several trade magazines and books, and has presented at trade conferences around the world on alkylation and oxygenate technologies. This March Jill presented at the National Petrochemical and Refinery Association (NPRA) Annual Meeting. She presented at the 2005 Science Career in Search of Women Conference at Argonne National Laboratory, the Japan Petroleum Institute (2004), and the Harts Conference (2000).
While a student at Michigan Tech, Jill was a member of the Michigan Tech Student Foundation and the American Institute of Chemical Engineers. After graduation, Jill has continued her involvement with the University, serving on the Michigan Tech Alumni Association Board of Directors from 1994 until 1998; since 1989 she has served as the Treasurer of the Chicago Chapter of the Michigan Tech Alumni Association. In her community, Jill and her husband Peter have been a presenting couple at Discovery Weekends for the Archdiocese of Chicago since 1994.
Jill and her husband reside in Elk Grove Village, Illinois with their daughters Michelle and Jessica.
From the 2006 Presidential Council of Alumnae Induction.