Emily McDonald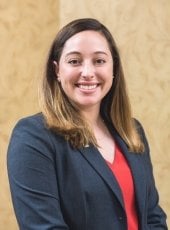 BS Environmental Engineering 2012
Emily graduated from Michigan Tech in 2012 with her bachelors in environmental engineering. She is currently working on a master's in business administration at Wayne State University.
She works as a Senior Environmental Engineer at General Motors where she provides waste management expertise and support to the General Motors Flint Complex.
She began working for General Motors in 2013 as a Waste Engineer after graduating from Tech. In 2016 she accepted a position to become a Site Environmental Engineer, until recently being promoted to her current position.
Emily has represented General Motors as a panelist at the Wildlife Habitat Council International Symposium. In 2015, she had the opportunity to travel to Nairobi, Kenya and Egypt to train and prepare Environmental Engineers for environmental audits. She is also the GM Women Employee Resource Group secretary.
Emily is a member of Engineers without Borders and the Michigan Association of Hazardous Materials Professionals. She is a Project GREEN Mentor, a Greening of Detroit Citizen Forester, and is a Regional Alumnae Coordinator for the Alpha Gamma Delta Volunteer Service Team.
While at Michigan Tech, Emily was a member of the Varsity Dance Team, the Visual and Performing Arts Learning Community, and Alpha Gamma Delta's Women's Fraternity. She also worked as a tour guide during her Junior and Senior years.
As an alumna, Emily stays involved as the Vice President of the Michigan Tech Alumni Board of Directors, a GM recruiter at career Fair, and a host of Third Thursday socials for the Metro Detroit Area.
Emily lives in Ferndale, MI with her high school sweetheart Bobby (a Northern Michigan Graduate) and their rescue dog, Rosa. They enjoy traveling together, visiting the UP, and being outdoors.
From the 2018 Presidential Council of Alumnae induction ceremony