Mary A. Herrmann-Foley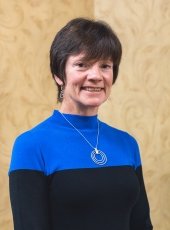 BS Geological Engineering 1983
Mary graduated from Michigan Tech in 1983 with her bachelor's degree in geological engineering. She continued her education at University of Houston earning her master's in business administration in 1987.
Currently, Mary is the Principle Production Geologist: Global Manager of Reservoir Modeling Consultants for Royal Dutch Shell, Houston. In this role she manages globally a team of Production Geology Petrophysics Reservoir Engineering, Production Technology and Geomechanical Advisors and Consultants.
Mary lived overseas from 1989-2012 in Columbia, Norway, Netherlands, Nigeria, and Malaysia. In 1995 she was the president of the Society of Petroleum Engineers in Assen, Netherlands. She also volunteered and was the president of Girl Scouts in the Netherlands from 2011-2012.
While at Michigan Tech, Mary was the Society of Petroleum Engineers president in 1982 and was an engineering honor student. She was a member of Sigma Tau Gamma little sisters from 1981-1983.
Mary garnered internships for the summers of 1981 and 1982 with Tenneco in the Gulf of Mexico and in Houston Texas while at Michigan Tech.
Mary is an active alumna and regularly supports the university and specifically the Geological Engineering department.
Since returning to the US and moving to Traverse City, Mary has become involved with the annual Cherry Festival and participates in Traverse City Alumni Chapter get-togethers.
Mary currently resides in Traverse City with her husband Michael and daughters Kyla and Alyssa.
From the 2018 Presidential Council of Alumnae Induction Ceremony program