Martha Sullivan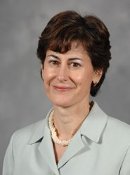 BS Mechanical Engineering 1980
Sensata Technologies is the world's leading supplier of sensors and electrical protection, improving safety, efficiency and comfort for millions of people every day. As president and CEO of Sensata, Martha Sullivan ('85) employs over 9,000 people in two major global business units with sales offices worldwide and business and manufacturing centers in nine different countries.
The name, Sensata, comes from the Latin word sensate, meaning "those gifted with sense." The company's logo is inspired by Braille, the writing system based on touch.
Sensata's high-precision devices are used in automotive, appliance, aircraft, industrial, military, heavy vehicle, heating, air conditioning, data, telecommunications, recreational vehicle, and marine applications. The company ships more than one billion units each year, including 1,500 circuit breakers and switches for commercial jets and burn-in and thermal solutions for millions of devices utilizing semiconductors. More than thirty Sensata sensors, switches, and safety devices are present in a typical home.
While at Michigan Tech, Martha was active in Society of Women Engineers, the Society of Heating and Refrigeration Engineers, the Society of Automotive Engineers and the Cooperative Education Association. She enjoyed downhill and cross-country skiing, bicycling and racquetball. Martha and her husband R. Michael Sullivan have two children and live in Wrentham, MA.
Excerpted from 2007 Induction to the Department of Mechanical Engineering-Engineering Mechanics Academy and the Mechanical Engineering-Engineering Mechanics Annual Report for 2013-14