Kerry Maloney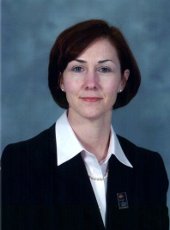 BS Environmental Engineering 1989
Kerry graduated from Michigan Tech in 1989 with a bachelor's degree in Environmental Engineering. After graduation she accepted a position as a Design Engineer with Stone and Webster Engineering in Boston, Massachusetts, where she assisted in the design of water and waste water treatment systems for major industrial clients.
Returning to Michigan in 1992, Kerry worked as an engineer with Holcim Inc., one of the world's leading suppliers of cement and aggregates. She also attended Wayne State, earning a master's in Civil Engineering in 1994. One of her major accomplishments at Holcim was the development and implementation of a company-wide environmental compliance auditing program. Because of her success with the program, she was invited to share it with Holcim's sister companies at an international conference in Switzerland.
Since 1999, Kerry has been the Director of Engineering for Southeast Michigan with the Michigan Concrete Paving Association. In this position, Kerry provides technical assistance to cities and counties across Michigan in the design and construction of roads and other public installations. She points out that "one of the best parts of my job is running into MTU alumni!"
Kerry is a registered Professional Engineer in the state of Michigan and is a member of the Michigan Society of Professional Engineers, the American Society of Civil Engineers, the American Public Works Association, and the Society of Southern Oakland County Municipal Engineers. In 2000, Kerry accepted an appointment to the Civil and Environmental Engineering Professional Advisory Committee at Michigan Tech. She has been a strong advocate for Michigan Tech's cement and concrete research and has returned to campus to speak with students in the Civil Engineering program.
She is very active in her community and often enlists her family to assist in volunteering in their church outreach programs and her homeowner's association clean-up activities.
Kerry lives in Canton, Michigan, with her husband Joseph, who is also a Michigan Tech graduate, and their sons, Ean and Aaron.
From the 2007 Presidential Council of Alumnae Induction.