Daniel Lorenzetti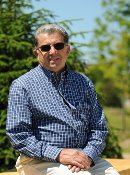 Dan Lorenzetti was born and raised in Hancock and attended Suomi College there before getting his Bachelor of Science degree in Business Education and Master of Arts in Secondary Education from Northern Michigan University. He also did postgraduate study at the University of Wisconsin.
Lorenzetti began his working life in Middleton, Wisconsin in 1969, in the marketing department of the Middleton High School. He remained in education in Middleton and later in Eagle River, Wisconsin, as a teacher, assistant principal, and principal. He returned to Houghton in 1978, when he shifted gears and became chief executive officer of his family business, Superior Block Company.
Dan believed in giving back to his community and supporting others. He served as a member of the Hancock City Council, mayor of Hancock, chairman of the Hancock Building Authority, and chairman of the Hancock Planning Commission. He was also active on the Torch Lake Public Action Council and was a member of the Michigan Bureau of Construction Codes.
Dan saw Michigan Tech as critical to the development of the community and he never missed an opportunity to show his support for the University. He was a member of the President's Society, donated ten acres of land to the Mont Ripley ski hill, and helped raise more than $750,000 in local contributions for snowmaking equipment on Mont Ripley. Dan led the drive to fund the Memorial Grove Tree Project, planting 100 trees on campus and saving the University more than $60,000. He and his wife, Joan, also donated and planted twenty-five Prairie Fire crab apple trees in the median strip to beautify the approach to Tech on US Highway 41. His most recent contribution was the bronze husky statue at the center of Husky Plaza, a visible and lasting tribute to the spirit of Michigan Tech.
In 2011, the Alumni Association's Honorary Alumni Award was presented to Lorenzetti in recognition of his service and support of the University characteristic of a dedicated alum. The Association reserves this award to recognize the strongest non-alumni supporters of Michigan Tech.
Profile updated April 29, 2015.