Loree K. Kalliainen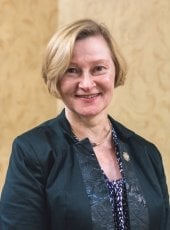 BS Biological Sciences 1987
Loree graduated from Michigan Tech in 1987 with her bachelor's degree in biological sciences. She went on to earn her MD in Medicine from the University of Michigan in 1991. Loree then studied general surgery at the University of Iowa from 1991-1994, after which she began research in muscle mechanics at the University of Michigan until 1996.
She completed her plastic surgery residency at Michigan in 1999, and then went on to complete a hand surgery fellowship at the University of Virginia. More recently, she received her master's in philosophy from the University of Minnesota in 2012.
Currently, Loree is an associate professor for the Department of Surgery at the University of North Carolina in Chapel Hill. She oversees patient care and education of surgery residents and medical students.
Loree is board certified in plastic surgery and subspecialty certified in hand surgery. She has worked and taught in Wellington, New Zealand's Plastic Surgery Section four times from 2012-2017. She has written and published five book chapters and 46 peer-reviewed articles.
She is a member of the board of directors for the American Board of Plastic Surgery, is active in several national societies.
Her philanthropic activities have included surgical service trips to India and Guatemala and collected for Books of Africa.
While at Tech, Loree received the Michigan Tech Outstanding student award in 1987. She was a member of Blue Key honor society, Phi Kappa Phi National Honor Society, the MTU concert band, and Sigma Tau Gamma little sisters. She was also a student athletic trainer.
Loree and her husband Kevin live in Chapel Hill, NC with their dog, Sasha. Her stepchildren, Jessica and Jeremy, live in Mississippi and Alabama.
From the 2018 Presidential Council of Alumnae Induction Ceremony program