Lisa Harrington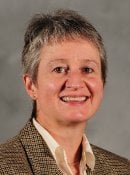 Lisa M. Harrington graduated from Michigan Technological University in 1985 with a BS in Mathematics. She entered the Air Force in 1985 as a graduate of Michigan Technological University's ROTC Program.
Lisa is a senior operations researcher at the RAND Corporation where she has focused on research problems ranging from examining Air Force science, technology, engineering and mathematics (STEM) requirements for officers and civilians, to cost analyses for AF Academy faculty, to defining competencies for Air Force senior leaders. She serves as principal investigator for numerous projects funded by organizations within the Department of Defense.
Prior to joining RAND in 2010, Harrington was the Director of Manpower and Personnel at U.S. Central Command, and then Dean of Students at the AF's graduate school, the Air Force Institute of Technology (AFIT). She commanded at the group and squadron level. Lisa has functional and analytical experience in military promotions, recruiting and retention, accessions, career field structures, compensation, education and training, and manpower requirements. She received her MS in national resource strategy from the National Defense University, her PhD in operations research from AFIT and a MA in Pastoral Studies from Loyola University in Chicago.
Lisa was inducted into the Michigan Tech Presidential Council of Alumnae in 2005, and she continues to stay involved with Michigan Tech's Air Force ROTC program, mentoring cadets and new Second Lieutenants.
Updated February 21, 2015, by Lisa Harrington