Linda S. Vanasupa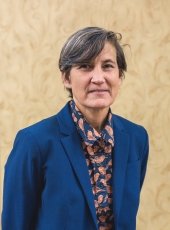 BS Metallurgical and Materials Engineering 1985
Linda graduated from Michigan Tech in 1985 with her bachelor's degree in metallurgical and materials engineering. She then went on to earn her masters and PhD in materials science and engineering from Stanford University in 1987 and 1991.
She is currently a professor of Materials Engineering at California Polytechnic State University. She began her career at CalPoly in 1991 and over the years has designed and taught 36 different courses. She also advised over 50 undergraduate senior projects and 15 master's theses.
She was awarded over $3M in grant funding and has authored/co-authored 65 peer-reviewed articles, 5 book chapters, and 56 open-education resources. Linda was also a visiting professor at Yale University's Center for Green Chemistry from 2008-2009 and is currently a visiting professor at Olin College in Massachusetts.
At CalPoly she has been awarded the Distinguished Teaching Award, the Societal Impact award, and the President's Service Award with the Materials Engineering Department.
Linda is a member of the American Society for Engineering Education (ASEE) and the Materials Research Society.
She has authored and performed in 17 local plays for various causes. She served as a referee for soccer in her community. She was also involved with a learning initiative where she was part of a team that facilitated 42 community projects centered around sustainability.
While at Michigan Tech Linda was a member of Tau Beta Pi, Alpha Sigma Mu (Materials Engineering honor society), and the Michigan Tech Student Foundation.
She received the Alumni Association's Outstanding Young Alumni Award in 1994 and has spoken at two Michigan tech events in 2017.
She lives in San Luis Obispo with her spouse Michelle and daughter ShiLu.
From the 2018 Presidential Council of Alumnae Induction Ceremony program