Linda McInally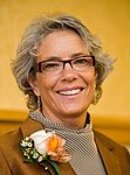 BS Chemical Engineering 1979
Linda McInally earned a bachelor's degree in Chemical Engineering from Michigan Tech in 1979. Linda's career with Dow Corning spanned 30 years centered on operations, with positions in process engineering, product development, finance and most recently, several roles in manufacturing leadership.
After graduation, Linda began her career with IBM in Arizona. She joined Dow Corning in 1981 as a Process Engineer. Over the next 10+ years, she held the positions of Development Engineer in the Advanced Ceramics Program, Technical Services and Development Specialist in Pharmaceutical Product Development and the Medical Materials Business. In 1995, Linda was promoted to Controller of Americas Core Product Business where her efforts earned her a Financial Achievement Award.
From 1997 to 2002, Linda worked for Dow Corning in Seneffe, Belgium, first as Manager of the Sealants Processing Engineering and Tech Center and then as Site Manager. Her management responsibilities in Belgium resulted in her being named to the list of top 20 most powerful women in the country. She has been the Supply Chain Director in the Specialty Chemicals Business where she was responsible for the business' 14 manufacturing plants in nine countries around the world. Linda was also led the Global Manufacturing Automation Group, responsible for implementing a vision for improving productivity through automation of Dow Corning's global supply chain.
Her most recent role before retiring in 2012 was Vice President of Manufacturing for the Specialty Chemicals Business, where she was responsible for manufacturing plants across Asia, Europe and North and South America. Linda was recognized for her deep knowledge of the people and processes around the world, enabling strong leadership for contributing significant financial contribution and quality improvements for the business.
Passionate about the benefits of working in manufacturing, Linda served as a mentor and career development coach at Dow Corning, helping those starting out to achieve potential while balancing their professional and personal life.
While a student at Michigan Tech, Linda was a member of the Concert Lecture Board, serving as President during her senior year. She was also on the committee to select participants for the Women in Engineering Summer Workshops, was involved with the Pep Band, participated in intramural sports, and was a member of the American Institute of Chemical Engineers. After graduation, Linda served as chair of her class for the ten- year homecoming reunion and continues to be a valuable ambassador for Michigan Tech at both Dow Corning and within her community. She currently serves as an Executive Sponsor for the Mid-Michigan Chapter of SWE
Linda was inducted into Michigan Tech's Presidential Council of Alumnae in 2008 and inducted into the Chemical Engineering Distinguished Academy in 2010. She and her husband, Alan ('79) live in Midland, Michigan. They have two grown daughters, Hilary Fritsch (DDS) and Sita McInally.
Updated June, 2012