Feifei Lin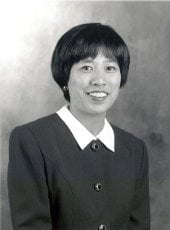 Feifei came to Michigan Tech to study chemistry, earning her PhD in 1994. Her other degrees include both Bachelor and Master degrees in polymeric material science and engineering from East China University of Science and Technology. Prior to coming to Tech as a PhD candidate, she worked as an engineer for Shanghai Pharmaceutical Industrial Design Institute. After completing her studies at Michigan Tech, she accepted a position at Dow Corning Corporation as an associate development specialist. She is still employed with Dow Corning today.
Feifei is a member of several professional organizations including the American Chemical Society, Sigma Xi Research Society, and the Dow Corning Technical Exchange Society. She has received numerous honors and awards including the Dow Corning Technical Achievement Award in 1995 and 1998. In addition, she has had over 12 articles published in scientific journals.
Feifei makes her home in Midland, Michigan.
From the 2000 Presidential Council of Alumnae Induction