Nancy Lefler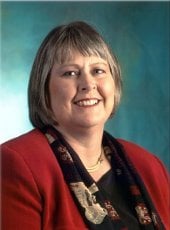 BS Business Administration 1979
BS Biological Sciences 1979
Nancy graduated from Michigan Tech in 1979 with dual bachelor's degrees in Business Administration and Biological Sciences. She then accepted a position with General Motors Corporation as an Industrial Engineer, Truck & Coach Division in Pontiac, MI. In 1981, she went to work at GM's Assembly Plant in Van Nuys, CA in the same capacity. She left General Motors in 1982 and moved to the San Francisco area, accepting a job with Clinipad Corporation as Pacific Northwest Territory Manager. In 1985, she went to work as a Business Broker for Corporate Investment Company. From 1989 to 1994, Nancy was the owner of Petaluma City Hostess. Since 1994, she has been Vice President - Operations for Lefler Engineering, which is owned and operated by Nancy and her husband, Michael. Lefler Engineering is a consulting design business for HVAC, plumbing and fire protection systems in commercial buildings.
Nancy is very active in her community serving on the Petaluma Women's Club II, the Petaluma Chamber of Commerce, the Petaluma Newcomer's Club, and the Petaluma High School PTA—currently serving a two-year term as President. She is also treasurer of her church, belongs to the American Association of University Women, and is active in the American Cancer Society's Relay For Life.
Nancy was very involved in campus life while a student at Tech. She was a founding member of Delta Zeta Sorority at Michigan Tech. She served as both Colony President and Chapter President of the sorority. She was also a member of the Pep Band, the Lode Staff, and Inter-Fraternity Council. She was active in Undergraduate Student Government, and served as President of the class of 1979—it was the first time in University history that a woman was elected president of the senior class. She was also the Muscular Dystrophy Association Youth Representative for Upper Michigan and Northern Wisconsin. She co-chaired the Michigan Tech dance marathon for MDA in 1978 and chaired the event in 1979.
Nancy and her husband, Michael, live in Petaluma, California. They have two children, Amanda and Trevor.
From the 2002 Presidential Council of Alumnae Induction.