Terre Lane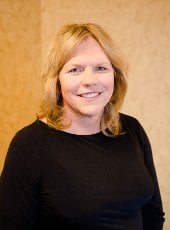 BS Mining Engineering 1982
Terre completed her BS in Mining Engineering from Michigan Tech in 1982. She is currently Principal Mining Engineer at Global Resource Engineering, Ltd. in Denver, Colorado.
Before assuming her current role in 2014, Terre served in a number of positions and capacities in the mining engineering world. She started her career in 1982 as a Project Engineer at Livengood Joint Venture. Since then she has held positions at Lacana Gold, American Mine Services, Kelsey Engineering (President), General Minerals Corporation (Vice President Engineering), Rocky Mountain Technology Engineering Corporation (Consultant), Gustavson Associates (Principal Mining Engineer), Intercontinental Potash Company (Vice President of Engineering and Project Development), and Lane and Associates (President).
She has worked at locations around the world including the US, Canada, Mexico, India, Ireland, China, Bolivia, Peru, Costa Rica, Africa, and New Zealand. She is also a member of the Society for Mining, Metallurgy & Exploration, the American Exploration & Mining Association, and the Mining & Metallurgical Society of America.
In addition to her significant work in the mining engineering field, Terre held positions which tapped into her love of both education and the arts. From 2001-02, she was employed as a Database Manager and Art/Math teacher at the Native American Multi-Cultural Education School, and from 2002-2007, she served as the Computer Systems and Business Manager for the Foothills Art Center.
Terre is from a Husky family. Tech alumni include her father, brother, and two cousins. Her grandfather and great grandfather both worked locally in Keweenaw Copper Mines.
While at Michigan Tech, Terre participated in many activities including boating, fishing, hunting, landscape painting, skiing, and orienteering. As an alumna, she has returned to campus as a guest speaker on economic modeling for mining projects in the School of Business and Economics.
Terre has two daughters, Kelsey and Samantha, and they live in Denver.
From the 2016 Presidential Council of Alumnae Induction.