Kristina M. Fields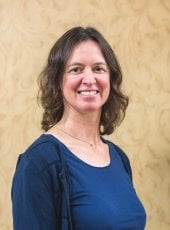 BS Civil Engineering 1996
MS Civil Engineering 1998
PhD Civil Engineering 2006
Kristina graduated from Michigan Tech in 1996, 1998 and 2006, with her bachelors, masters, and PhD in civil engineering.
She currently works as a professor of Civil and Environmental Engineering at the University of Wisconsin-Platteville. She is in charge of teaching civil and environmental engineering courses, advising students, developing/hosting STEM outreach activities, and is an advisor for the student chapter of Institute of Transportation Engineers.
Kristina has received multiple awards including the UW-Platteville Nimocks' Family Faculty Appreciation Award, the Outstanding Academic Advisor Award, and the UW-Platteville Award for Excellence in Service Learning.
Kristina currently leads a study abroad program course throughout the Netherlands that explores bicycling infrastructure, which two Michigan Tech students have attended.
She is an active member of the Institute of Transportation Engineers, the Center for Infrastructure Transformation and Education, and the American Society of Civil Engineers. In her community, Kristina is a club volleyball coach, a sponsor for the organization African Soul American heart, and is chair of the Platteville Community Safe Routes Committee.
While at Michigan Tech, Kristina was on the Michigan Tech volleyball team and was a member of the Institute of Transportation Engineers. As an alumna, she takes annual trips to Michigan Tech staying in touch with her department and past professors.
Kristina lives in Platteville, WI with her husband Paul Fields, a 1996 Civil Engineering alumnus, and their two kids, Michael and Emily.
From the 2018 Presidential Council of Alumnae Induction Ceremony program