Megan Kreiger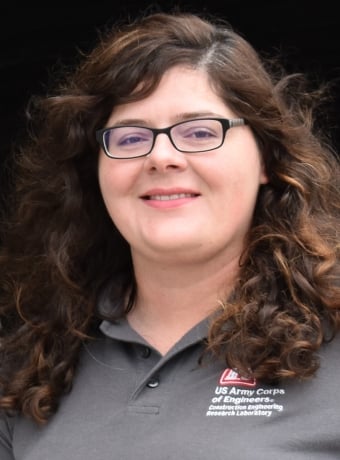 BS Mathematics 2009
MS Materials Science and Engineering 2012
Megan Kreiger '09 '12 has distinguished herself as the Department of Defense (DoD) subject matter expert on additive construction (AC) while drawing international recognition throughout industry for her significant advancements to the field.
Kreiger is Program Manager and Technical Lead of the U.S. Army Engineering Research and Development Center's AC program that developed the state-of-the art concrete 3D printers. She has led the printing of multiple buildings, a bridge, and a variety of infrastructure components; most of which are the first in the Americas if not the first of their kind in the world.
Kreiger earned a bachelor's in mathematics in 2009 before completing a master's in materials science and engineering in 2012.
Since then, Kreiger has led the development of large scale deployable construction 3D printers that can print on varied terrain, promote mobility, ease of build, flexibility of materials, faster construction speeds, and are designed to be rugged and print out in the open without cover under various weather conditions.
Kreiger has been actively engaged in multiple societies and committees including NATO, the Transportation Research Board, and the Army Community of Practice. She is actively engaged with external DoD organizations and industry partners as a subject matter expert, researcher, and reviewer. Kreiger frequently leads teams of over 40 cross-service members. She is directly sought after for expert guidance in decision making across services and industry for large-scale 3D printing.
Kreiger's outreach extends beyond ERDC to inspire young future engineers. In 2020, she was invited to participate in ERDC Answers, "Engineer Your Career" podcast (Michigan Tech Alumni ran), and was co-host for a Michigan Tech HuskyBites Zoom session that reached 1,500 people.
Kreiger was recognized by the US Army Corps of Engineers (USACE) with a token of excellence for her efforts and influence on the next generation of engineers. She also earned international recognition as a 2021 NASA Silver Medal Achievement team awardee, the 2020 BuiltWorlds' Maverick Award, the 2018 Engineering News-Record Top 25 Newsmaker Award, the 2018 USACE Innovation Award, and participation in the 2018 National Academy of Engineers – Frontiers of Engineering.
For her career achievements in such a short time, Kreiger has been given the 2021 Michigan Tech Outstanding Young Alumni Award.
Updated August 2021