Susan Korpela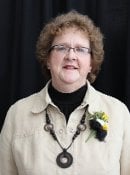 BS Chemical Engineering 1978
After earning her bachelor's degree in chemical engineering in 1978, Susan Korpela joined the 3M Company where she worked on adhesive products for industrial and automotive applications providing product/process development and technical service. She held a number of management positions in the automotive industry including acquisitions, global joint ventures, and new technology commercialization.
Throughout her career, her real passion was in K-12 STEM education, recognizing the importance the Women in Engineering workshop had on her life in 1974. Sue has been a counselor, role model, and speaker on many occasions, and secured 3M Foundation/3M Gives funding—$25K annually for 2011-2014—which provided Women in Engineering Summer Youth Program scholarships and transportation for St. Paul, MN students. Also, she arranged annual 3M participation in the Tech-organized Detroit-area Youth in Engineering and Science Expos (YES!)
In another outreach program, Sue facilitated collaboration between 3M Visiting Wizards and Michigan Tech Mind Trekkers, encouraging early student interest in STEM. During the development of the Mind Trekkers program, Sue provided information and connections with the 3M Visiting Wizards program and secured more than $4,000 in funding.
Aware of the significance of her Tech education, her involvement on campus continued after graduation starting with recruiting. Sue has been active with the chemical engineering department, serving on the Industrial Advisory Board for six years and was named to the Chemical Engineering Academy in 2013. She also served four years on the Corporate Advisory Board for Institutional Diversity where she was the co-chair of the education subcommittee.
Sue connected her 3M network to her Michigan Tech network on multiple occasions. Within the chemical engineering department, she organized meetings between professors and Tech alumni at 3M and had interactions leading to two 3M non-tenured Faculty Grants, Jason Keith and Keat Ong. She worked closely with Tony Rogers on Enterprise commercialization teams, providing 3M products, consultation, and student development mentoring. When a research project led by Julie King required a special extruder, Sue coordinated the use of 3M pilot plant process equipment. She recently even extended her reach to the mechanical engineering department, working with Jeff Allen to facilitate funded participation in a 3M-secured Department of Energy grant for fuel-cell development.
Sue is a member of the Alumni Association (Life), President's Club, and the Presidential Council of Alumnae.

From the 2015 Alumni Awards Induction Program