Kim Cameron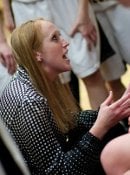 BS Business Administration 2005
Born to Coach Black and Gold
by Wes Frahm
It's a moment that won't soon be forgotten: hundreds of Michigan Tech fans cheering the arrival of the Huskies at Civic Arena in St. Joseph, Missouri, for the NCAA Division II Women's Basketball National Championship game.
The 2010-11 Huskies have put together thirty-one wins, Great Lakes Intercollegiate Athletic Conference regular season and tournament titles, and the school's third straight NCAA Midwest Regional Championship.
Now they'll play the biggest game in school history.
But with zero returning starters and a first-year head coach, who saw this coming?
Kim Cameron did.
"We knew we had a lot of talent on the roster," she said. "We just needed to trust and believe in each other."
The thought of playing for a national title was probably the furthest thing from Cameron's thoughts, however, in the minutes and hours following her collegiate head coaching debut at Notre Dame on November 2.
The Division I power Fighting Irish had just handed her Huskies a 102–30 loss in a preseason exhibition—not how she had envisioned her first game at the helm of one of the most successful Division II women's basketball programs in the country.
Despite the tough start, she still knew she was in the right place.
"I believe in everything the Huskies stand for," said Cameron. "This is a great school with great people and a great women's basketball tradition. I want to give others the same experiences I had as a student-athlete.
"I can't imagine anyone else doing this job."
That confident mind-set wasn't yet in place when an 18-year-old Cameron opted to follow her older brother, Matt, in playing basketball at Michigan Tech.
"I cried the whole way here when my parents brought me to campus as a freshman," said the Alpena native. "They just left me, but they knew that was the right thing to do.
"It took less than a day to know this was where I was supposed to be."
Cameron said then–head coach Darla Olson and assistant coach Sara Ferris made the transition an easy one, checking in daily to make sure everything was going well.
Kim spent 2001–05 as a role player in the Huskies lineup, helping Tech compile a 71–42 record with a trip to the NCAA Tournament her senior season.
John Barnes took over as coach for Cameron's final two seasons and hired the fresh college graduate with a bachelor's in business administration as his assistant coach in 2005.
The next five years were some of the most successful in school history. Barnes and Cameron recruited four eventual one-thousand-point scorers and posted a 119–36 record. Tech advanced to the NCAA Elite Eight each of the last two seasons with a combined 58 wins.
When Barnes announced he was leaving for Wisconsin in June, Athletic Director Suzanne Sanregret handed Cameron the top job. She began as head coach on June 17.
Michigan Tech bounced back from the game at Notre Dame (which would go on to play for the Division I national championship) and felt the sting of defeat only twice in twenty-five regular season games.
The Huskies' postseason run began with three home wins in the GLIAC Tournament. The Black and Gold went on to host the NCAA Midwest Regional.
After a 69–57 victory over University of Wisconsin–Parkside, Cameron cut down the nets for the Huskies' third straight regional title. Tech became the first team from the Midwest to win three consecutive regional crowns.
The team peaked at the right time, playing its best basketball of the season at the Elite Eight. The Huskies upset No. 1–ranked Arkansas Tech 69–58 in the national quarterfinal before sealing the best season in school history with an 89–78 victory over Northwest Missouri State in the semifinal game.
The run did not last. Tech ran into a talented Clayton State team in the title game and was defeated 69-50 in front of a national television audience on ESPN2.
"The experience of playing in the championship game was awesome," said Cameron. "Not a lot of teams get a chance to do that. I think we learned a lot, and we still have things to improve upon so we're ready to win a national championship next time we get the chance."
Cameron, 27, was named GLIAC and Midwest Region Coach of the Year. Still, she knows it's about more than winning.
"I want to be a positive influence for the student-athletes I recruit to Michigan Tech," she said. "I want this program to be one that the University and community are proud of."
That demands success on court and in the classroom. This year's team boasts a 3.64 GPA with every player on the roster above a 3.0.
As far as the future, Cameron says, "My goal is to learn and get better every day. That's what I try to do, and what I expect from my team. Work to get better each day."
There are no doubt more unforgettable moments to come.
Excerpt from MTU Magazine Vol. 48 #3