Karen Henry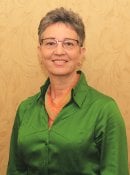 BS Geological Engineering 1979
Karen graduated from Michigan Tech in 1979 with a Bachelor of Science degree in Geological Engineering. From 1979 through the spring of 1984, she trained and raced full time in cross-country skiing, making the US Developmental squad in 1981, and remaining at a rank of top 10 three seasons in a row. Following her time as a full-time athlete, she continued her journey in higher education receiving a Master's degree in Civil Engineering from Northwestern University in 1987 and a PhD in Civil Engineering from the University of Washington in 1998.

Upon graduating from Tech, Karen worked for the U.S. Army Engineer Cold Regions Research and Engineering Laboratory as an engineer (initially part-time while racing) and then a Research Civil Engineer from 1986 to 2008. In 2008, after a one-year teaching sabbatical at the U.S. Military Academy, she joined the faculty at the US Air Force Academy's Department of Civil and Environmental Engineering where she was an Assistant Professor from 2008-10 and then an Associate Professor from 2010 to 2014, and was promoted to Professor in July of 2014.

Throughout her career she has been recognized with numerous awards including Outstanding Academy Educator, Department of Civil and Environmental Engineering, USAir Force Academy (2011-12), U.S. Army Commander's Award for Civilian Service for meritorious achievement (2008, ), US Army ERDC Award for outstanding team effort, Joint Rapid Airfield Construction Program (2008), US Army ERDC Commander's Coin, for National Geotechnical Engineering Site opening (Farmer's Loop Road, Fairbanks, AK; 2003), Cold Regions Research and Engineering Laboratory Equal Employment Opportunity Award (CRREL EEO; 1994) and the Cold Regions Research and Engineering Laboratory (CRREL) Federal Woman's Program Award (1989).

Karen is listed as inventor or co-inventor on three patents and she has published 40+ reports and articles pertaining to a variety of topics, including the use of energy foundations, geosynthetics in cold regions, environmental applications of geosynthetics, and frost effects in soils. Her professional affiliations include the International Geosynthetics Society, the North American Geosynthetics Society, the American Society of Civil Engineers, and the Society of Women Engineers (Lifetime Member).

As a student at Michigan Tech she was an avid and outstanding skier's;initially as an alpine racer, but finding her strength in cross-country skiing during her junior and senior years. She was a member of the Alpine Ski Team 1974-1976 and the Cross-country Ski Team from 1976 through 1978. She was named to the All Mid-America Ski Team from 1975-1978. In 1978 she was named Senior Athlete of the Year at Tech. She was also a member of the Varsity Club. In October of 1991 she was inducted into Michigan Tech's Sports Hall of Fame.

Karen is the mother of two sons, James Cole-Henry (a Mechanical Engineer) and Darren Cole-Henry (an Artist), and she and her husband, David Cole, reside in Monument, Colorado.
In 2014, in recognition of her significant achievements, Karen was inducted into the Presidential Council of Alumnae. This profile appeared in the induction program, September 19, 2014.