B. Patrick Joyce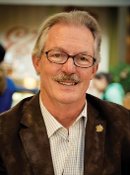 The irony of his last lecture topic wasn't lost on professor of economics B. Patrick Joyce. On a bitterly cold December morning in 2011, thirty-eight years after he started teaching at Tech, he spoke on Social Security in the School of Business and Economics.
As he explained the vagaries of the often-maligned government entitlement program in language the students could understand, he challenged them to think broadly about it. It's one part about teaching at Tech he'll miss the most, he said.
Patrick earned his PhD at the University of Missouri and came to Michigan Tech in 1972. Since then his duties have ranged widely, including service on the University's Senate and as faculty marshal for commencement. Patrick was the advisor to the Beta Sigma Theta fraternity and on the board of Tau Kappa Epsilon. He was a faculty representative on the student judiciary committee, was chair of the distributions subcommittee during the transition from quarters to semesters, was a member of the course change committee, judged Winter Carnival statues and skits for many years, and even advised the rifle team for a time.
But it is largely for his work in athletics — and with their governing bodies — that he was recognized in 2010 with the University's Distinguished Service Award.
He began serving as Tech's NCAA faculty athletic representative in 1999, following three years as assistant representative. In this role, his paramount responsibility was to help ensure the integrity of the program, an ethic that Tech coaches uniformly endorsed.
During his tenure, he was particularly proud of the student-athletes' GPAs, which were routinely higher than the average of the overall student body.
Internally, Patrick has served as chair of Tech's Athletic Council since 1995 and was involved in searches for both athletic directors and coaches. Externally, he worked with the NCAA, the WCHA, and the GLIAC. Joyce has served on the WCHA executive committee, including as chair, and on the GLIAC five-member executive council. He stepped down from his roles with athletics in 2010.
Patrick was a Blue Key Clare M. Donovan Award winner and received the Herb Brooks Award for his distinguished service to the WCHA. He was also named a Fulbright Scholar and taught at the University of Split in Croatia in 2012.
From the 2015 Alumni Awards Induction Program