Joseph Berger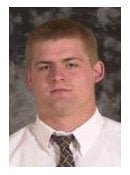 BS Mechanical Engineering 2005
Most magna cum laude graduates of Michigan Tech seek jobs in their field of study to begin their career. For 2005 alumnus Joe Berger (pronounced Bur-jur), who earned his bachelor's degree with a 3.8 grade point average in mechanical engineering, this was not the case. His career started on the field - playing in the National Football League.
There are plenty of twists and turns on Berger's road to being a pro football player. Beside the fact that very few NCAA Division II players get a chance at a pro career, Berger's focus on academics and earning his MTU degree nearly derailed his opportunities for a coveted spot on an NFL roster.
Throughout his career, Berger has played for the Carolina Panthers, the Dallas Cowboys, the Miami Dolphins, and is currently with the Minnesota Vikings.
Excerpted, in part, from the article "Tech Grad Berger Now Making the Grade in the NFL," which first appeared in the December 2005 issue of Michigan Tech Magazine, Volume 42, Number 2
Updated March 2, 2015