Jaclyn Johnson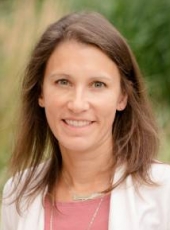 MS Mechanical Engineering 2008
PhD Mechanical Engineering 2011
Jaclyn Johnson joined Michigan Tech's Mechanical Engineering-Engineering Mechanics Department as a graduate student in 2007 and is now a senior lecturer in the department. She earned a master's in mechanical engineering in 2008 and a PhD in 2011.
Prior to coming to Tech, Johnson studied at Illinois Wesleyan University, gaining a bachelor's in physics in 2006.
"I started as a physics/math major, and wanted something more applied—to see direct applications," she said. "By switching to ME, I was able to see the applications of my classes and research work."
Johnson conducted research with advisor Jeff Naber on diesel spray combustion characterization using optical diagnostics with an optically accessible constant volume combustion vessel. She was able to share that research internationally in Germany as well as several locations in the U.S.
Following completion of her PhD, Johnson stayed on as a research engineer in the ME-EM Department while teaching a class or two per semester.
"I found I really enjoyed teaching," she said. "I really enjoyed working with and interacting with students, sharing what I call 'yes' moments with them—the moment when it all clicks and they get it."
Johnson transitioned to lecturer in 2014 and also took on advising of senior design teams and leading Engineering Ambassadors, a program to conduct STEM outreach to local K-12 students. She was promoted to senior lecturer in 2018.
Johnson has taught nearly 20 different courses in the ME-EM Department. She has been nominated for ME-EM Teacher of the Year four times, winning in the 2016-17 academic year.
"I know all Michigan Tech students are unique and have the ability to make a difference with their degree," she said. "That's why I devote countless hours to try to learn new techniques and strategies for the classroom. I want to help all students be successful, both in regards to academics and other life skills."
Outside of work, Johnson enjoys spending time with her family including husband Jack and two daughters Bailey and Ryleigh. She enjoys being outdoors hiking, skiing, and running. While a student, she played on Tech's women's club ice hockey team.
Updated August 2021