John Furton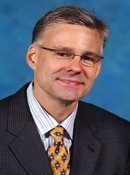 John Furton is Vice President of Purchasing & Merchandising for Family Video, the nation's third largest video retailer, and President of Family Online, a subsidiary company focused on the evolving digital distribution of movies and games.
John graduated from Michigan Tech in 1987 with a B.S. in Computer Science and has since served on the Advisory Board of the College of Sciences and Arts and the fundraising committee for the Leaders for Innovation capital campaign. In 1999, John was honored as the university's Outstanding Young Alumnus.
John started his career at Kraft Foods where, over several years, he attempted a few entrepreneurial ventures on the side. One of them, Peapod, Inc., took hold and John was able to quit his "day job." As a co-founder of Peapod, John held several executive positions, including VP of Operations and Chief Information Officer. Over the next 10 years, the online grocery company grew to more than $150 million in sales, went public, and eventually was purchased by Royal Ahold, a $50 billion supermarket holding company based in Europe.
In 2001, John joined Sourcelight Technologies, Inc. as President & CEO. Sourcelight is a provider of marketing and merchandising services for media and entertainment retailers and a pioneer in the application of predictive modeling technologies for personalization and target marketing.
From 2006 Induction to the College of Sciences and Arts Academy