John Drake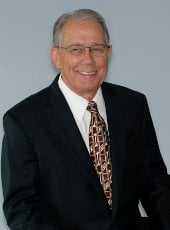 BS Mechanical Engineering 1964
MS Business Administration 1969
John Drake is serious about giving back to his alma mater. He attributes his success in large part to "the training and rigor of a Michigan Tech education with its insistence on understanding."
Drake earned a bachelor's degree in mechanical engineering in 1964 and a master's in business administration in 1969. "Nobody was better prepared to understand and solve problems than Tech grads were," he says. "We competed with engineers from the best schools and never had to back down."
John and his wife, Cathi, founded Drake Manufacturing Services in Warren, Ohio in 1972 and sold it to their management team in 2007. The company develops and builds computerized grinding machines and sells them across the world.
Because of their appreciation for Michigan Tech, the Drakes support the University through their estate plan. They endowed the John and Cathi Drake Professorship in Mechanical Engineering which they later elevated to a Chair position. They also have made gifts in honor of their children: the Dr. Lisa Drake Invasive Species Lab at the Great Lakes Research Center and the Karen Richardson Scholarship in the School of Business and Economics.
Drake is a registered professional engineer in Ohio and Michigan, served on the board of directors of the Association for Manufacturing Technology, and was a chapter president in the Society of Manufacturing Engineers.
John was inducted to the Michigan Tech Mechanical Engineering-Engineering Mechanics Academy in 2001. His service to the University has included membership on the President's Advancement Council and as a director and life trustee of the Michigan Tech Fund.
The Drakes were married in 1964 and have two daughters, two sons-in-law, and two grandsons. The couple lives in Florida but enjoys summers in Hancock, Michigan, a few blocks from where John was born.
From the 2017 Alumni Awards induction.