John Calder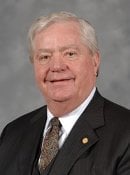 BS Mechanical Engineering 1967
MS Business Administration 1976
John is the retired owner/CEO of Dorsey-Alexander Inc., Cincinnati Controls Inc., and four other motion control, sensor, and machine guarding safety control companies. He started his career as a design engineer for Dynapar Corp, designing digital industrial counters and kinematics control systems.
He and his family moved to Loveland Ohio in 1976 to work with Dorsey-Alexander Inc. as a Sales Engineer and had a hand shake promise he could purchase the company out of sweat equity over time- which he did. The buyout was completed in 1992.

John graduated from Michigan Tech in 1967 with a bachelor's in mechanical engineering, then again in 1976 with a master's in Business Administration. He credits the combination of Engineering Technical Knowledge coupled with Business Technical Skills and Personnel Behavioral Science education for his fortunate success. He also credits luck and great family support for his achievements.
John has been an active member of the Michigan Tech Fund, serving as vice chair and then President of the Board of Directors of the Tech Fund. He was active with the Phase I, Building for the Future campaign, Chair of Phase II, Endowing Excellence and a member on the last national campaign, which exceeded the $200 million goal. He and Joan established the ME-EM Calder Systems and Control Laboratory and an endowed a chair.
John was inducted into the MTU ME-EM Academy in 2007, received the MTU Outstanding Service Award in 2009 and in 2o15 was awarded the Board of Control's Silver Medal. In 2017 he was inducted into the School of Business and Economics Academy of Business.
In addition to education, John and Joan support wildlife and are gold level Diamond Life Sponsors of Ducks Unlimited. They continue to work at the Troop and Council level of the Boy Scouts of America.
John lists hunting, fishing, gardening, and reading as his hobbies. His passion is for family, Michigan Tech Sigma Rho Fraternity, STEM education, and creating opportunities for anyone who says, "I can do it, I know I can!!"
From the School of Business and Economics Academy of Business 2017 Induction Ceremony program.