Jillian Rothe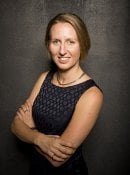 BS Mechanical Engineering 2006
BS Business Administration 2006
Jillian Rothe has established a sterling career at Caterpillar in short period of time, using her mechanical engineering and business administration degrees with a minor in Spanish. She's also given her time and talents to many worthwhile causes over the years.
She is currently Caterpillar's Energy and Transportation Marketing Support Representative for Asia Pacific based in Singapore. Within this newly created role, she ensures that business partners have the Extended Protection Products to support their go-to-market strategies. Rothe has held increasingly responsible management roles in Peoria; Monterrey, Mexico; Minneapolis; and Nashville.
Outside of her job duties, she has been involved in the Caterpillar Latino Connection Leadership Team, Women's Leadership Forum, Military Support Network, Asia Synergy Network, Caterpillar Young Professionals, Women's Initiative Network, Cat LAMBDA (LGBTA Group) and the Nashville Chapter of Girls on the Run. She is also a 70.3 Ironman triathlete, an Independent Marketing Executive for Melaleuca Inc, The Wellness Company, and is part of the Michigan Tech Technical Marketing Recruiting Team and Society of Women Engineers.
In 2014, Jilllian was recognized by the Michigan Tech Alumni Association with the Outstanding Young Alumni award.
Updated May 5, 2014