Jessica S. Chlopek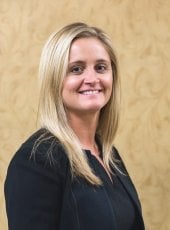 BS Business Administration 2006
Jessica earned her bachelor's in business administration/finance from Michigan Tech in 2006.
She currently works in Institutional Equity Sales at William Blair, a job she started in 2012. Jessica started at William Blair as an entry-level sales assistant, within three months, she worked her way up to a sales associate position.
She then spent five years as a senior associate under William Blair's New York regional head which granted her the opportunity to interact with some of the largest and most sophisticated hedge funds and mutual funds in the world.
She maintains Series 7 and Series 63 licensing and has been involved in multiple industry level events and panels, including the Women's Initiative Network (WIN).
Jessica participated in philanthropic efforts for the Greater Chicago Food Depository, American Red Cross, and Northwestern Brain Tumor Institute among others.
While at Michigan Tech, Jessica worked with the staff of the School of Business and Economics in a work-study program. She was a participant of the Applied Portfolio Management Program (APMP), Phi Beta Lambda, and was awarded the Women in Promise award in 2016. She graduated summa cum laude from Michigan Tech.
Since graduating, she has been an active alumna providing her support to both the university and SBE. She contributes directly to the APMP program. She has hosted multiple Michigan Tech student groups in Chicago at William Blair's facilities.
Her husband Jason Chlopek, also attended Michigan Tech and graduated with his Bachelors in electrical engineering in 2007. He also has a master's from Illinois Institute of Technology and works as an engineer for Sargent & Lundy.
Jessica and Jason live and work in Chicago, IL. In her free time, she enjoys cross training and practicing yoga.
From the 2018 Presidential Council of Alumnae Induction Ceremony program