Jennifer Trice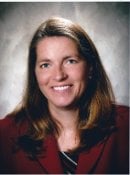 BS Metallurgical and Materials Engineering 1987
MS Metallurgical and Materials Engineering 1989
Jennifer Trice earned two degrees from Michigan Tech—a bachelor's in 1987 and master's in 1989, both in metallurgical engineering.
She was hired at 3M in 1989 and spent her entire 30+ year career there before retiring in 2020.
Trice's first role at 3M was as an Advanced Design Engineer providing metallurgical support as part of the Corporate Engineering group responsible for designing proprietary capital equipment for manufacturing. Four years later, she moved into a different position with all mechanical engineers, doing predictive modeling.
To solidify her technical skills for that job, Trice completed a bachelor's degree in mechanical engineering remotely from the University of North Dakota.
Part of Trice's job included helping discover and improve numerous products and processes through the company.
"My experience at Michigan Tech really helped me be well-rounded," she said. "I was able to think and work both in team environments and independently."
Trice was named on 21 issued patents for 3M and earned numerous awards within the company including the Corporate Energy Excellence Award, the Corporate Process Improvement Award, the 3M Technical Education Lifetime Educator Award, and the Career Award for Engineering Achievement.
As a volunteer, Trice has served on Michigan Tech's Mechanical Engineering-Engineering Mechanics External Advisory Board, participated in Society of Women in Engineering events, and supported senior design projects. She has also recruited and mentored numerous young engineers at 3M including many Michigan Tech graduates.
"Volunteering is a great way to interact with other volunteers, contribute with my talents, and give to others," she said. "It is rewarding to know I am making a difference."
Trice recalls fondly her time at Michigan Tech, exploring the Keweenaw and Copper Country cruising. She is also a survivor of the infamous Thanksgiving Drive of 1985, where a heavy early winter storm stranded many Tech students returning to campus from break.
"We made it from lower Michigan to Houghton in about 24 hours, mostly because we were no longer able to get off of the road (the snow was too deep) by the time we realized we shouldn't go any further," she said.
Trice was selected for induction into the President's Council of Alumnae in 2020.
Updated August 2021