Jennifer J. Allman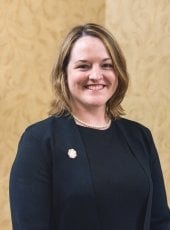 BS Mechanical Engineering 1996
Jennifer graduated from Michigan Tech in 1996 with her bachelor of science in mechanical engineering. She later went on to earn her master's in mechanical engineering in 1998 from Oakland University.
She is currently the Senior Manager: Safety Recall Administration & Execution at Fiat Chrysler Automobiles (FCA) where she is responsible for the execution of safety and quality customer campaigns from recall to repair of the vehicle.
After graduating from Michigan Tech, Jennifer started at FCA after interning with them for 4 summers. She was selected for the Chrysler Institute of Engineering (CIE) program where she rotated through various areas of the company while she worked on her master's degree. She then moved around for several years within FCA, before reaching her current position.
Jennifer is a member of Inforum, a women's leadership organization, where she was selected by FCA to attend their Executive Leadership Program. She is also a Women of Tomorrow mentor and volunteers at an animal rescue center, Grace Centers of Hope, and Forgotten Harvest.
While at Michigan Tech, Jennifer received the Ted Rozsa scholarship, helped facilitate the first Presidential Council of Alumnae event in 1996, and she participated in the International Youth Skill Olympics in Mechanical Drafting.
Jennifer is an active Michigan Tech alumna. She has been the Michigan Tech recruiting team captain since 2000, a Design Expo 2016 judge, an Industry Panelist at LeaderShape, and is currently a Corporate Advisory Board Member with Career Services. She also advocated the implementation of Michigan Tech's Summer Youth Program Women in Automotive Engineering.
Jennifer enjoys being outdoors, volunteering, playing the piano, and walking her dogs.
From the 2018 Presidential Council of Alumnae Induction Ceremony program