Jay Ruohonen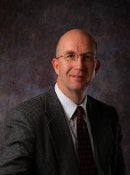 BS Business Administration 1984
Graduating in 1984 with a B.S. in Business Administration from Michigan Tech, few would predict that Jay Ruohonen would become president of an engineering design and product development firm. Ruohonen, the youngest of five children, was the first to graduate from college. After 23 years in the finance industry, Jay now directs the research, development and commercialization of proprietary and external technologies and products for Talon Research. Ruohonen works directly with his wife Dorothy (Daavettila) Ruohonen, also a Michigan Tech Alumna.
In 2005, the Ruohonens moved their company into MTEC SmartZone business incubator. Ruohonen committed himself fully to his wife's start-up endeavor, previously Hawk Technologies Inc., in 2008. Expanding from two to 12 employees – mostly Michigan Tech graduates – Talon Research has had particular success with their original product, BridgeGuard. BridgeGuard is an infrared inspection system that can detect hidden delaminations within concrete bridge decks and substructure elements.
Ruohonen was appointed as a Director of the Midwest Bridge Preservation Partnership, a 14 state consortium, and also serves on the Michigan Tech School of Technology Industrial Advisory Board.
Talon Research Inc. is based inside MTEC SmartZone's Jutila Center location in Hancock, MI. For more information on MTEC SmartZone, visit www.mtecsz.com or call 906-487-7000.