Janet Burge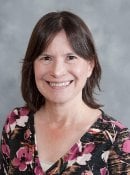 Janet earned a bachelor's degree in Computer Science from Michigan Tech in 1984. After working in the software industry for 12 years, she returned to school to earn her master's in Computer Science in 1999 and doctorate in Computer Science in 2005, both from Worcester Polytechnic Institute. She is now an Associate Professor of Computer Science at Wesleyan University.
After her graduation from Michigan Tech, Janet worked at Raytheon Company in Massachusetts as a software engineer. Her assignments there included spending fifteen months in the Aleutian Islands (Amchitka, Alaska) installing an over-the-horizon radar system. She also spent one year working at Fidelity Investments before returning to graduate school. During graduate school, she worked for Charles River Analytics, a small Artificial Intelligence research company as well as teaching courses at WPI. After completing her PhD, Janet was hired as an Assistant Professor at Miami University and was awarded tenure in 2011. Her primary research interest is in Design Rationale, studying how to capture and use the reasons behind decisions made during software or product design. She teaches courses in Object-Oriented Programming, Software Engineering, and Human-Computer Interaction.
Janet has authored over 40 publications, including the book "Rationale-Based Software Engineering" (with co-authors John Carroll, Raymond McCall, and Ivan Mistrik). In 2009, she was awarded an NSF Career Award to support her research in Design Rationale. She also received two other NSF grants for her work in improving communication skills in computer science students, one with North Carolina State University and one with Michigan Tech. Janet's strong research record resulted in her being named a Miami University Distinguished Scholar and being given the Miami University School of Engineering and Applied Science Outstanding Research Award (both in 2010).
In addition to her teaching and research, Janet is also interested in encouraging more women to study Computer Science. She was on the planning board for TRIWIC – the Lexington, Louisville, and Cincinnati's Celebration of Women in Computing Conference in 2011. She also helped to organize and conduct Girls on the Go: The Mobile Computing College Experience, a one week summer camp to teach high school girls mobile application development. In her free time, Janet plays cello with the Wesleyan Symphony Orchestra.
While at Michigan Tech, Janet was active in two musical groups. She performed in the Michigan Tech Chamber Choir and was also principal cellist in the Keweenaw Symphony Orchestra. She was named "Outstanding Orchestra Member" in 1984.
In recognition of Janet Burge's significant achievements, she was inducted into the Presidential Council of Alumnae in 2012.
Excerpted from the 2012 PCA Induction Ceremony Program
Updated November 2014