James Howell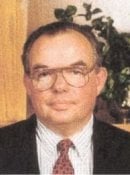 BS Chemical Engineering 1965
Mr. James N. Howell graduated from Michigan Tech in 1965 with a Chemical Engineering degree and subsequently attended the Thomas Cooley Law School of Lansing in 1975. Upon graduation, Mr. Howell joined the Dow Corning Corporation where he was active in environmental engineering and regulatory areas. He joined the Environmental Regulations and Enforcement Division of the State of Michigan in 1972 and the National Steel Corporation in 1975 as Director of Environmental Affairs, Midwest Division.
Throughout his career, Mr. Howell held many progressively responsible and important positions including Vice President of Environmental, Energy and Public Affairs (1981), Vice President of Engineering and Process Products Technology for National Steel (1983), Vice President and General Manager of the Great Lakes Division (1986). In 1991, he was appointed Vice President, Operations of National Steel Corporation and also served as President of ProCoil, a joint venture of National Steel and Japan's Marubeni Corporation. In 1993, he was appointed Senior Vice President and CEO for National Steel. He left National Steel in 1994 to found and develop U.S. Stainless Company. Mr. Howell is president and CEO of U.S. Stainless, a company with production planned at 3000,000 tons/yr. of flat rolled sheet product.
Mr. Howell is associated with the Southern Wayne County Chamber of Commerce, the Economic Club of Detroit, the Water Pollution Control Association and the Air Pollution Control Association. He is a member of the American Iron and Steel Institute, the American Iron and Steel Engineers, the Michigan Fund board of trustees, and he is a member of the Presidents Club. He was awarded the Menorah Award of the Michigan Trade Union Council for Histadrut in 1991.
From 1995 Induction to the Department of Chemical Engineering Academy