Cynthia Hodges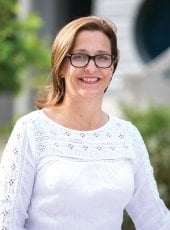 BS Mechanical Engineering 1987
MS Mechanical Engineering 1990
After attending "Women in Engineering" as part of the Summer Youth Program at Michigan Tech when she was in 11th grade, Cynthia Hodges '87 '90 knew it was the place for her.
"Michigan Tech prepared me very well for my career, for an unlikely reason. There were so few of women studying engineering back then, I got used to being one of the only women in the room. This suited me well for a career in industry, where women engineers currently only make up 7% of all mechanical engineers. At Tech, my male colleagues always treated me like an equal, a valued member of any team I was on."
After graduating with her BS and MS in mechanical engineering, Cynthia began work at Ford Motor Company as a product test engineer in their durability engineering laboratory. She has spent most of her career in chassis engineering and has designed fuel and steering systems, suspension, tires, wheels, and brakes for many Ford cars and trucks, and later leading those teams. After 25 years in product development, she moved to purchasing to help Ford's supplier partners make the best chassis commodities for Ford vehicles. She retired from Ford as in January, 2021.
"I was the first person in my extended family to go to college, so going to Michigan Tech quite literally changed my life. I'm glad to "pay it forward" to Tech students because of all the good things my Michigan Tech education gave to me." Cynthia's husband Andrew Hodges graduated from Michigan Tech in 1989 in civil engineering, and her son Edward Hodges also graduated from Michigan Tech in 2019 in forestry. Her daughter Jane received her BFA in graphic design from Eastern Michigan University.
Cynthia is past president of the Society of Women Engineers of Detroit. Cynthia is a charter member of the Presidential Council of Alumnae, the Alumni Association Board of Directors, and Career Services Advisory Board at Michigan Tech. She has also been active in on-campus recruiting at Michigan Tech.
Cynthia's advice to students is: "Stay connected with your fellow MTU Alumni! So often, I've been helped along the way by other alumni at work."
Updated April 2022