Holly Hillberg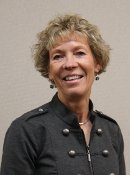 BS Chemical Engineering 1983
Holly Hillberg is a highly respected, internationally-renowned senior executive whose visionary leadership and extraordinary business acumen at Johnson & Johnson, Carestream Health, and Eastman Kodak Company have been pivotal over the years in defining and aligning the companies' footprints for success. In the early 1990's, when Kodak was primarily still a film company, Hillberg (an electrical and chemical engineer by training) became one of the company's earliest and most tenacious voices for moving the company into the digital imaging arena. Her foresight was rewarded with numerous promotions across multiple disciplines – from R&D to Intellectual Property to Business and Commercialization – all of which resulted in a new digital photography and digital imaging platform for Eastman Kodak Company.
Fast forwarding to 2006, it was Holly Hillberg to whom the company turned when the decision was made to sell off Kodak's $2.5 billion dollar Health Imaging Group business to the Toronto-based Onex Corporation and she managed the divestiture with characteristic collaborative, flawless execution. The end result was the emergence of the freestanding Carestream Health, Inc., and her multiple talents were again recognized by her appointment to not one, but three executive positions at Carestream Health. From 2006 – 2008, she held the concurrent positions of Vice President and Chief Technology Officer, Vice President and Chief Marketing Officer, and briefly, as Interim Leader of the Molecular Imaging Business Unit. In these positions Holly led the organization through a time of uncertainly and change as the company established the new culture, business model and operating structure. It was Holly who convened and led the first Board Meeting of Carestream Health, Inc. to provide its members with the strategic vision for the new company. In her combined new duties, Holly led a global team of 800 R&D professionals, including a new 300 person team in Shanghai, China, in the creation and commercialization of digital imaging solutions for healthcare institutions worldwide. She was responsible for leading technology and IP strategy, regulatory and compliance, setting direction for advanced research and innovation, and driving game changing commercialization efforts. The result, a successful standalone company in the medical devices industry.
In 2011, Holly accepted the position of Vice President, Worldwide Research and Development at Johnson & Johnson, Ortho Clinical Diagnostics. As a member of the Global Management Board she led this organization in providing innovative and core technology leadership to transition a stagnant global $2.5 billion dollar healthcare screening, diagnosis and monitoring company into an organizational powerhouse with an innovative strategy and product pipeline for serving patient needs worldwide. A champion for customer engagement and innovation, she led the team in creating game changing technology for Point of Care and mainframe diagnostics, breaking industry norms and paradigms for blood testing worldwide. By authoring the company's strategic plan and roadmaps, incorporating innovation and product leadership, she garnered renewed confidence in the company from internal and external constituents. Holly was selected as a member of the four person executive team to position OCD for its successful sale to The Carlyle Group. As part of this major business transaction, she was once again involved in all details of the business from financial performance to commercial operations; from strategy to R&D to manufacturing and logistics. Holly was instrumental in marketing the business, leading the due diligence process, consummating the sale and executing the successful carve out from Johnson & Johnson in July 2014.
Holly is the recipient of numerous professional and community awards, including the prestigious Athena Award, which is presented annually by the Rochester Business Alliance Women's Council honoring the region's outstanding professional woman who has achieved exceptional levels of business accomplishment and community involvement. She was named 2010 Distinguished Alumni of the Year by Rochester Institute of Technology's Kate Gleason College of Engineering and was selected to be their 2010 Commencement Speaker.
She serves on numerous boards, including the University of Rochester Medical Center Board, MedTech of New York State, Roberts Wesleyan College Board of Trustees, Rochester Institute of Technology President's Roundtable, Michigan Technological University Board of Trustees. Globally, she and her husband have led five youth ministry trips to the Amazon River basin in Brazil, as well as mission trips to communities in need, from Coney Island and Appalachia in the US, to Ecuador and Russia, abroad.
Holly holds a BS in Chemical Engineering from Michigan Technological University as well as a BS and MS in Electrical Engineering from Rochester Institute of Technology. Additionally, she is a graduate of the Northwestern University's Executive Development Program from the Kellogg Graduate School of Management and the Manufacturing Executive Program at the University of Michigan. Holly and her husband Willy live in a vineyard overlooking Keuka Lake with their yellow lab, Sadie. She enjoys wine and running marathons, although not usually in that order.
From the program for the 2015 Chemical Engineering Academy Induction