Heidi A. Mueller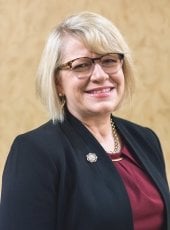 BS Mechanical Engineering 1993
Heidi graduated from Michigan Tech in 1993 with her bachelor's degree in mechanical engineering. She went on to earn her masters in mechanical engineering from the University of Michigan in 1997.
She currently works as Autonomous Vehicle Hardware Team Lead for Ford Motor Company where she is responsible for joint design, development, and delivery of autonomous vehicle sensors and computing solutions. Heidi has been with Ford for over 25 years.
Heidi has received the Ford-Polling Award in support of organization sponsored Michigan Tech Senior Design Project and has also received the 2013 Global Diversity and Inclusion Award for Leveraging a Diverse Workforce.
In her community, Heidi is involved in the Society of Women Engineers Detroit, Ford/SWE recruiting Team, and has served on the Ford/MTU Product Development Recruiting Team for over five years.
She is also a high school cheer and gymnastics volunteer, Splitz Gymnastics Booster Club past President, Junior Girl Scout Troop Leader, and is a Salvation Army and Open Door Food Ministry Volunteer.
While at Michigan Tech, Heidi was the President of Delta Zeta Sorority, a Teaching Assistant for Numerical Methods, and a Summer Youth Programs Assistant.
As an alumna, she remains active as an Electrical and Computer Engineering Corporate Advisory Board member, was a part of the Delta Zeta Housing Corporation, and is a Ford Recruiting team member for Michigan Tech's Career Fair.
She currently lives in Canton, MI with her husband Thomas and daughter Hunter.
From the 2018 Presidential Council of Alumnae Induction Ceremony program