Hatice Ozturk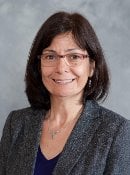 MS Electrical Engineering 1983
Hatice graduated from Michigan Tech in 1983 with a master's degree in Electrical Engineering. She continued her graduate studies at North Carolina State University and earned a PhD degree in Electrical and Computer Engineering in 1991. She is currently a Teaching Associate Professor at NCSU dividing her time between the Electrical and Computer Engineering and Biomedical Engineering departments.
She started her professional career as an assistant to the director of the SUCCEED (Southeastern Universities and Colleges Coalition for Engineering Education) and worked on her own Women in Engineering project within the coalition. She also taught in the Electrical and Computer Engineering department and organized the activities related to program accreditation and assessment. In 2005, she added Biomedical Engineering program to her accreditation and assessment activities, as well as teaching Linear Systems for Biomedical Engineers.
In 2004, Hatice received the Outstanding Teaching Award and was selected to the Academy of Outstanding Teachers at North Carolina State University. In 2007, College of Engineering presented her the George H. Blessis, Outstanding Undergraduate Advisor Award. She is a member of American Society for Engineering Education and Institute of Electrical and Electronics Engineers. Throughout her academic career she has also been involved in developing course work on women in science and technology. Recently she has focused her efforts in designing instructional platforms (software) to help engineering students transition into engineering courses.
While at Michigan Tech, she worked as a teaching assistant in the electronic circuits lab and received the Jonathan Bara Memorial Award, which is given to an Outstanding Teaching Assistant in the Electrical Engineering Department every year. She was a member of the Turkish Students Association and participated in the activities prepared by international students.
Hatice and her husband Mehmet ('83 Electrical Engineering) live in Cary, North Carolina. They have one son, Berk, who recently completed his master's degree in Music Technology from NYU Steinhardt.
In recognition of Hatice Orun Ozturk's significant achievements, she was inducted into the Presidential Council of Alumnae (PCA) in 2012.
Excerpted from the 2012 PCA Induction Ceremony Program.