Angela Hammond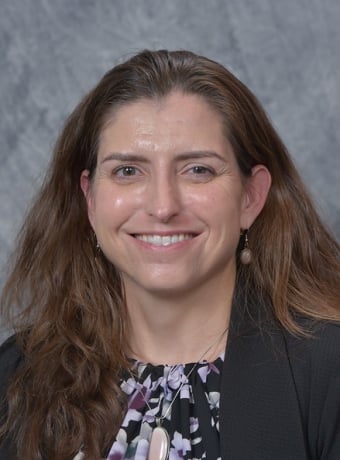 BS Geological Engineering 2000
MS Geological Engineering 2002
Angela Hammond earned a bachelor's ('00) and master's ('02) in geological engineering at Michigan Tech before going to work for Shell, where she's spent her entire successful career.
Angela began as a production geologist, her key duties included seismic interpretation, static modeling, and well operations for offshore operations near Nigeria. One of her proudest moments was successfully completing a well—one at which other senior geologists were unsuccessful. Later, she was credited for her advanced skills in interpreting reservoirs after she independently came to the same conclusions as a much more experienced geologist about a notoriously difficult-to-interpret reservoir.
"I received a lot of recognition by my senior management on how advanced my interpretation skills were, and I believe that led to my getting a broadening assignment working for the VP of Deepwater Development in Houston," she said.
Angela's titles at Shell have included production geologist, subsurface coordinator, development planner, and front end development manager. She has experience ranging from deepwater to onshore heavy oil production and has worked on projects in or near Nigeria, Brazil, Colombia, the Gulf of Mexico and the U.S.
Recently, Angela was the senior development planner for a deepwater development called Perdido Phase 2 in the Gulf of Mexico.
"I was part of a high performing team that brought this project through to funding and first oil at the end of 2020. The project is very valuable to Shell's portfolio and is performing very well to date."
Angela's ties to Michigan Tech's Department of Geological and Mining Engineering and Sciences run deep, as she credits Michigan Tech with preparing her very well and giving her a solid foundation for success.
"I consider each and every professor that I had in the geological engineering department a friend," she said. "I try to visit campus regularly and keep in touch with many of them."
Angela recalls playing broomball with her all-female team from McNair Hall as one of her fondest memories as a Husky. She also is quick to point out how receiving a scholarship made her experience at Michigan Tech possible.
"Being able to land scholarships was huge for me because my parents did not have the means to pay for college," she said. "Because of that and the continued relationships I have with the faculty and staff, I want to give back and help the next generation of Huskies achieve their goals and dreams."
Angela and her husband, Cory ('98 '00 Civil Engineering), support the A.E. Seaman Mineral Museum through the Elizabeth Bekkala Endowed Memorial Fund.
"I also am probably a bit biased, but consider the A.E. Seaman the best mineral museum in the U.S." she said. "Houston has nothing compared to that!"
Angela and her husband Cory have two children, Kate and Kyle. Outside of work, she enjoys leading her daughter's Girl Scout Troop and is a long standing member (currently acting as treasurer) on the Houston Geological Societies Undergraduate Student Scholarship Committee.
Angela was nominated for induction to Michigan Tech's Presidential Council of Alumnae in 2012 and inducted in September 2021.
Updated September 2021