Monica Hahn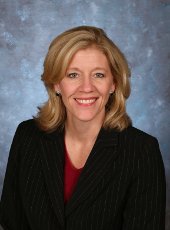 BS Business Administration 1983
Monica Hahn is passionate about development—not only her own, but in helping teams and corporate cultures to reach their highest potential too. She is an experienced marketing executive with a proven track record in a variety of industries. She was recently named Vice President of Marketing for ARAMARK Sports & Entertainment, which provides a complete line of food, retail and facility management services to recreation areas, cultural attractions, parks and resorts, sports venues, and other popular tourist attractions.
Monica graduated from Michigan Tech in 1983 with a BS degree in Business Administration. She went on to earn an MBA in Marketing from Western Michigan University in 1987.
Monica began her career at Whirlpool Corporation. She worked for Whirlpool in progressively responsible positions until 1989, earning her MBA during this time as well. Monica joined Burger King Corporation and was rapidly promoted through the ranks. She was with Burger King for 11 years, most recently as Director, Sales and Marketing for the Central Region.
From 2000 to 2003, Monica was the Vice President of Marketing for ARAMARK Educational Resources—one of the largest providers of childcare and educational services in the country. From 2004 to 2006, she was the Senior Vice President of Marketing for New World Restaurant Group, overseeing marketing and product development. She recently returned to ARAMARK as the Vice President of Marketing for the Sports and Entertainment division.
While a student at Michigan Tech, Monica was a member of Phi Kappa Theta fraternity's Little Sisters organization, and served as President, Vice President, Rush Chair and Pledge Captain. She was also a member of the German Club, volunteered at Dial Help, and participated in intramural sports. Monica's professional affiliations have included the Women's Food Service Forum, the Global Leadership Council at Colorado State University, the Women's Vision Foundation and the American Marketing Association.
For the past several years, Monica and her husband, Mike Ranallo, have split their time between Denver and Winter Park, Colorado but will soon be relocating to Philadelphia.
From the 2007 Presidential Council of Alumnae Induction.