E. Geiger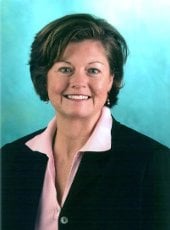 BS Chemical Engineering 1982
Heidi received her Chemical Engineering degree from the University in 1982. After graduation, she joined Procter & Gamble Company as a Process Engineer. She has remained with the company and currently holds the title, Global FemCare Initiatives Success Manager.
Throughout her extensive career with Procter & Gamble, Heidi has held numerous positions and taken on greater levels of responsibility. From her initial position as process engineer, she became Papermaking Process Manager, and then Pulp Supply Department Manager—all at the Cheboygan, Michigan plant. She then moved to P&G's Cincinnati, Ohio location, starting as a Department Manager, then moving to a Section Head position. She has led several regional and global new product launches to market. She currently travels the world as the Associate Director responsible for new product launch success in the Global FemCare Business Unit reporting to the President.
Heidi is active both in her community and professionally. She volunteers with local school projects and programs, and serves on her church's Finance Committee. She is also a former school board member. She has been very active in establishing and leading several Women's networks within P&G. She is currently serving as chair of the Cincinnati P&G Fine Arts Fund Campaign.
As a Michigan Tech student, Heidi was active in campus activities. She served on the Student Council for four years, first as freshman Class President, then sophomore Class President, Student Council Vice President, on up to Student Council President. She also served on the Alumni Association Board of Director from 1980–1986, the first two years as a student.
Heidi comes from a true Michigan Tech family. Her brother and sister are both graduates, and her nephew will be attending Michigan Tech in the fall of 2004. She and her husband, Mike, reside in Cincinnati with their sons, Brandon and Derek.
From the 2004 Presidential Council of Alumnae Induction.