Lynda and John Fenn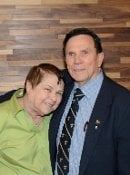 John found a love for land surveying at an early age, when his father convinced him to get out of short order cooking and into civil engineering. That was in 1961. John enrolled in the ICS course in land surveying and continued his education through evening surveying classes at Macomb Community College in southeast Michigan. John passed the Michigan surveying exam in 1976 and established Fenn and Associates Surveying in 1978.
In 1980 he was elected to the Board of Directors of the Southeast Chapter of the then MSRLS. This began a lifelong dedication, serving as president of the chapter then as treasurer , vice president and president of the state society, He went on to the national organization serving as president and then as chair of the American Council of surveying and mapping. He is currently serving as secretary/treasurer with the National Society of Professional Surveyors.
John received an honorary doctorate from Ferris in 2007 and he currently serves as chair of their Surveying Engineering program. He also provide valuable as member of Tech's Surveying Engineering Industrial Advisory Board for the School of Technology.
When Lynda married John in 1961, she also married into the land surveying profession. She has been supportive of John in all aspects of his education and helped him establish Fenn and Associates, all the while being a mother of four.
In 1992, when John was president of the Michigan Society, he and Rollie Self—the executive director of the Society—met with staff at Michigan Tech to explore a better relationship between the two. John fell in love with the profession all over again. When John returned from his trek north and told Lynda he wanted to establish a scholarship at the school, she was fully supportive. The couple also fund a scholarship at Ferris State which was subsequently increased at Lynda's insistence. Since their inception, both scholarships have been awarded every year.
Lynda is proud of all surveying students and has a passion for their success. She was also instrumental in supporting the John and Lynda Fenn GIS and Photogrammetry lab at Ferris.
The Alumni Association's Honorary Alumni Award honors individuals who have provided service and support of the University characteristic of a dedicated alum. The Association reserves this award to recognize the strongest non-alumni supporters of Michigan Tech. Clearly John and Lynda's dedication to supporting surveying students makes them more than worthy of this award.
From the 2015 Alumni Awards Induction Program