Elio Argentati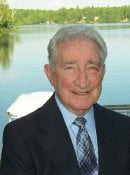 BS Electrical Engineering 1950
Elio Argentati, a native of Iron Mountain who moved to Iron River, Michigan, graduated from Michigan Tech with a bachelor's degree in electrical engineering in 1950, after which he fashioned a notable career.
At Tech, he was a member of the Rifle Team, the Varsity Club, and the Air Force ROTC program. He served in the Air Force in Japan and Korea from 1950 to 1953, and then began his career, which saw him go from an engineer to the head of the Upper Peninsula Power Co.
After his military service, Elio worked at his family business for three years, then joined the Erie Mining Co. in Minnesota. In 1960, he signed on at UPPCO as an applications engineer and spent the rest of his career with that utility. He steadily rose through the company's ranks. He was the division manager, superintendent of operations, general superintendent, vice president of operations, president, and chairman of the board and chief executive officer, retiring in 1994.
He also was a dutiful leader in civic service. He has been active in West Iron County Schools and served as the vice president of the Michigan State Chamber of Commerce. He was a member of the steering committee that undertook the renovation and expansion of the Salvation Army's headquarters and community center in Hancock. He served in the Rotary, Lions, and Kiwanis Clubs. He was a director of the Merchants and Miners Bank of Calumet and a member of the American Institute of Electrical Engineers.
At Tech, he has been active in the Alumni Association, where he is a member of the Golden M Club, and a leader in the University's fundraising initiatives.