Duane Thayer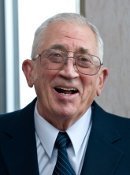 MS Metallurgical and Materials Engineering 1962
BS Metallurgical and Materials Engineering 1959
Retired
Michigan Technological University
Materials Science and Engineering
BS EMY 1959, BS EMY 1962
Duane "Dewey" graduated from Michigan Tech with both his B.S. & M.S. degrees in Metallurgical and Materials Engineering in 1959 and 1962. Also served three years in the U.S. Marine Corps.
Dewey retired from Michigan Tech in January 1997 and became emeritus professor in the fall of 1997.
In his spare time, Dewey enjoys gardening and an occasional visit to the "Dog House" to reminisce with old friends and former colleagues. He and his wife, Mary, reside at their home on Upper Point Mills Road in Torch Lake Township.
From 2008 Induction to the Department of Materials Science and Engineering Academy