Smriti Gandhi Dhanjal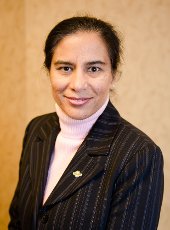 MS Electrical Engineering 1992
Smriti graduated with a Master's in Electrical Engineering, with emphases in Electronics and Computer Engineering in 1992. She went on to earn her MBA at the Ross School of Business, University of Michigan in 1998. She is currently a Dealer Systems Portfolio Manager in the Marketing Sales and Service at Ford Motor Company in Dearborn, Michigan. She has been with Ford her entire career spanning over 20 years.
Smriti's achievements include being a US patent for Powertrain Outbound Logistics Project, and earning a Certificate of Merit Award, "Women Who Make a Difference in the Field of Science and Technology" by Career Communications Group in 1998. She has also been honored with eight awards at Ford, including two Manufacturing Engineering Excellence Awards.
At Michigan Tech, she was involved in many activities. She was a member of the Society of Women Engineers, the Institute of Electronics and Telecommunication Engineers, and the International Club. She was also Vice President of the Indian Student Organization.
Since leaving Tech, she's been a member of the Presidents Club, is a Ford Recruiting Team Member for Michigan Tech, and let the establishment of the Ford Program Office (Project SISU) at Tech in partnership with the MTEC SmartZone.
Smriti's community service activities include volunteering at community health fairs and in the West Bloomfield School District. She's been Treasurer of the non-profit Sikh Foundation, and supports many other organizations including the Jane Doe Advocacy Center, American Cancer Society, March for Babies, and Karmanos Cancer Centers.
Her husband, Dr. Upendra Singh Dhanjal, is a Pulmonologist and Critical Care Specialist and Critical Care Education Coordinator for the Medical Residency Program at Detroit Medical Center, Huron Valley Sinai Hospital, and is an Associate Professor at Michigan State University. They have a son, Pratham Singh Dhanjal, and reside in West Bloomfield, Michigan.
From the 2016 Presidential Council of Alumnae induction.