Christie Dewhirst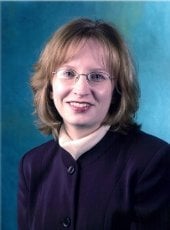 BS Electrical Engineering 1993
Christie graduated from Michigan Tech in 1993 with a bachelor of science degree in Electrical Engineering. She also received Modern Language Certification in French at this time. After graduation, she accepted a position with Ford Motor Company in Dearborn as a Product Engineer. During her career with Ford she spent six months in Dunton, England as a Calibration Engineer-Foreign Service Specialist with the Ford-Small Vehicle Center. In August of 1996 she returned to Ford's Dearborn facility as a Product Development Engineer in the Advanced Powertrain Engineering Division. In addition to working full-time, Christie enrolled in the Ford Motor Company/Wayne State University Electronics and Computer Control Systems master's degree program in 1997. She received this degree in 2000.
In 1998, Christie accepted a Product Engineer/Algorithm Software Tools Engineer position within the Restraint Electronics Department of Visteon (at that time a subsidiary of Ford Motor Company). She moved to the Business Planning and Technical Sales area in 2000 as Technical Sales Engineer for that department. In 2002, Visteon sold its Restraint Electronics Department to Autoliv ASP Incorporation, a worldwide leader in automotive safety products. Christie moved to Autoliv and currently holds the title of Account Manager.
While attending Michigan Tech, Christie was a member of Omicron Delta Kappa and the Memorial Union Board. She also served as a tutor for the Math Department. She was the recipient of several scholarships including the State of Michigan Competitive Scholarship, the Walter L. and Stella M. Kroll Scholarship, and the Turovaara Scholarship.
Christie's relationship with Michigan Tech has continued beyond her student years. She has been a Role Model Speaker for the Women in Engineering Summer Youth Program, a recruiter for Ford and Visteon at the Career Fairs, and in 1999 she was chosen as an industry representative to serve on the Electrical and Computer Engineering Department's External Advisory Committee.
Christie is actively involved in her community. As a Help One Student to Succeed (HOSTS) volunteer mentor, she works weekly with 1st – 5th grade students to help them develop reading and writing skills. She also participates in fund raising events for the Michigan Humane Society.
Christie and her husband, Joe, a 1995 Tech grad, make their home in Novi, MI.
From the 2003 Presidential Council of Alumnae Induction.